Good Vehicles for Snow from Hyundai
These Midwest winters aren't known for being forgiving. From freezing rain to full on blizzards on the lake front, you want to know that the vehicle you are driving will get you to your destination safely, and effortlessly. Hyundai has thought of that, and here at Webb Hyundai, we decided to pick our top three favorite good vehicles for snow that Hyundai has to offer our customers.
Hyundai Kona
Hyundai Tucson
Hyundai Santa Fe
These SUV's are jammed packed with industry leading, award-winning advances in safety and technology. You may call it a peace of mind, but at Hyundai they call it SmartSense, because it just makes sense. Your next vehicle should have your back and be the extra hand that you need. From Safe Exit Assist to HD headlights with Dynamic Bending light to help see around da...

Shop the Best Car Deals at Webb Hyundai!
At the end of the year, Webb Hyundai always has the best car deals, so you can end the new year on top with a brand new 2018 or 2019 vehicle. This year is no different because - here at Webb Hyundai - we've got some of the best Hyundai deals for you or those special people in your life that deserve a holiday gift. Across all of our new 2018 and new 2019 vehicles, we have deals for finance, lease, or cash! Check out the rest of our new 2018 vehicles before they're gone, or get a new 2019 vehicle ready for the new year!
Shop Our New Holiday Deals!
We have some of the best car deals going on this time of year for Hyundai and Webb Hyundai in both Highland and Merrillville. Our deals include some of our most popular vehicles and, if you're a previous Hyundai owner, you might get the best d...

Learn More About the 2019 Hyundai Elantra
The redesigned 2019 Hyundai Elantra is a modern, compact car with dynamic precision design and accents of contemporary touches built to get moving forward for the journey ahead. The Elantra is Hyundai's compact car that boasts the latest in technological design and comes packed with industry leading features to keep you driving confidently out on the open road. With its fluid exterior design, the Hyundai Elantra will continue to impress when you step inside its contemporary accented interior. Whether it's your first car, or your fifth car, the 2019 Hyundai Elantra is designed to get you moving forward.
The 2019 Elantra comes in a variety of different trim levels:
SE
SEL
Value Edition
Eco
Limited
2019 Hyundai Elantra Configurations and Specs
The Exterior and Interior:
The 2019 Elantra was...

Learn More About the 2019 Hyundai Kona
The 2019 Hyundai Kona is your next go-anywhere, do-anything compact SUV designed to help you explore your great, big world in style. The Kona is Hyundai's compact SUV that is equipped with the latest technologies and safety features that Hyundai has to offer, earning it a 2018 IIHS Top Safety Pick award. As the recipient of the prestigious Red Dot Award in Product Design in 2018, the Hyundai Kona marries functionality, style, and performance into your next perfect garage addition. Whether you are city bound or heading out on a cross-country adventure with family or friends, the 2019 Hyundai Kona is perfect for everyone.
The 2019 Kona comes in a variety of different trims:
2019 Hyundai Kona Configurations and Specs
The Exterior and Interior:
The 2019 Kona was born ...

Webb Hyundai Offers Spook-tacular Savings!
At Webb Hyundai of Highland and Merrillville, we are dedicated to bringing you some of the best savings on our vehicles that Hyundai has to offer. Every month, we sit down and put together amazing deals that will help get you into the car you want and the car you need. This month, we're offering savings and deals on new 2018 and 2019 vehicles like:
Elantras
Sonatas
Santa Fes
Tucsons
And so much more!
You could save up to $2,500 on a new Hyundai Elantra OR get 0% APR for 72 months PLUS $1,000 Bonus Cash.
You could be saving up to $2,500 on a new 2018 Elantra GT OR receive 1.9% APR for 60 months PLUS an additional $500 in Bonus Cash.
With our 2018 Kona, you could see a savings of $1,500 OR take advantage of 1.9% APR for 60 mont...

What is the Future of Buying a Car? Hyundai Shopper Assurance!
At Webb Hyundai Highland and Webb Hyundai Merrillville, we do our best to give you an exciting and supportive sales experience, but we know that many people still feel stressed about buying a car. The innovative Hyundai Shopper Assurance system is the new way to buy a car at your convenience. You enjoy a host of benefits that apply to both of our Webb Hyundai locations, so explore this exciting new program today.
Hyundai Shopper Assurance vs. Traditional Car Purchase
Hyundai Shopper Assurance offers totally transparent pricing so you can know exactly what you're paying upfront. Now you don't have to worry about call-for-price deals or haggling down for a good price. We give you the best available price right up front and on our website so you can make faster, smarter decisions.
Now yo...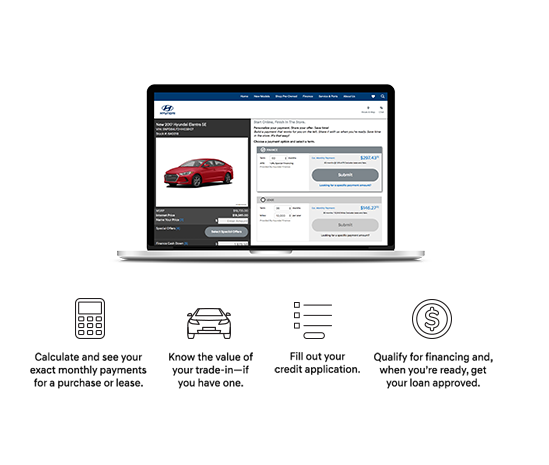 The Stylish and Fun-to-Drive New Hyundai Kona is Now Available at Our Dealerships
The new Hyundai Kona has arrived at our dealerships, and we think you're going to love it. This new CUV offers a modern, eye-catching style, high-tech features, and exciting performance for a great driving experience around Indiana.
The Kona offers two engine options, so you can choose the one that best suits your needs. You can opt for the 2.0-liter engine with 147 horsepower or the 1.6-liter turbocharged engine with 175 horsepower depending on your preferences. You can also choose the six-speed automatic transmission or the seven-speed dual-clutch transmission. This vehicle also offers an available all-wheel drive system, which allows you to enjoy excellent performance in a variety of conditions.
This vehicle also offers all kinds of great tech features. Apple CarPlay and Android Auto m...
Hyundai Blue Link Can Make Your Drive Even Better
Hyundai Blue Link is a great feature available in many new Hyundai vehicles. It can help make your driving experience simpler, safer, and more convenient. For example, Hyundai Blue Link allows you to lock and unlock your car doors remotely for your convenience, and you can also start your car and set the temperature remotely so that you can get comfortable as soon as you step inside. This feature also works to help you keep your car in shape by reminding you to schedule auto service and providing vehicle diagnostics on demand. Features like SOS Emergency Assistance make it easy to call for help if you need it, so you can drive confidently throughout Indiana. Blue Link can also help you keep your teen driver safe with features like Speed Alert and Curfew Alert, adding peace of mind to your ...